string quartet I
2018 |string quartet| x minutes
in progress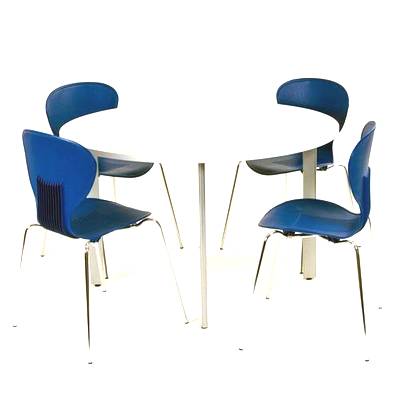 wherever I go, there I am
2018 |3 bass clarinets | 9 minutes
wherever I go, there I am for three bass clarinets was completed in March 2018. The piece incoporates a number of ideas of diverse styllistic origin—including an improvisatory section—and seeks to combine them logically, and with meaningful intent.
"The title of this trio for three bass clarinets is a play on the name of a book about mindfulness by Jon Kabat-Zinn: Wherever You Go, There You Are. There is some suggestion that the book's title is a quote from Confucius, whose tomb in Qufu, Shandong, China I visited in 2013, with my wife Yan Yan. I think this is one of my more successful polystylistic works, because I am particularly happy with the way that the different styllistic elements complement each other."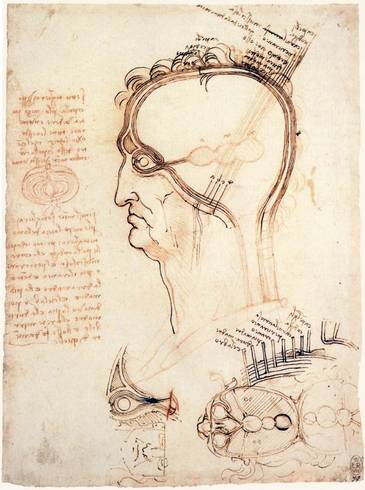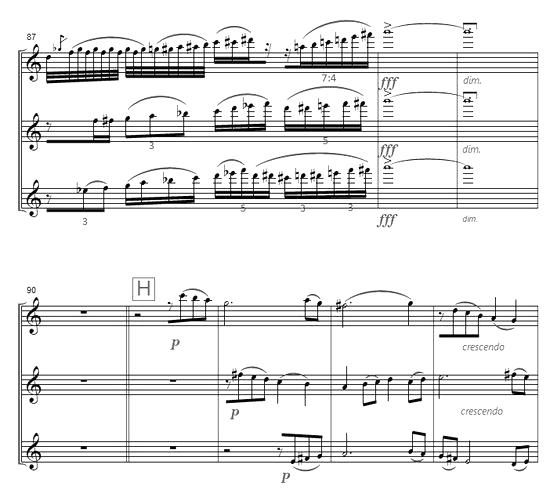 emergence
2018 | flute, viola & harp | 11 minutes
emergence for flute, viola and harp was was composed for the 30th International Krakow Composers Festival (2018) at the request of the festival's director, esteemed Polish composer Marcel Chyrzynski, to whom the work is dedicated.
"I chose emergence for the title of this piece because it's a word full of meaning, and the music is about many things, including my emergence as a composer, the emergence of my identity from a confused history, the emergence of Poland as a nation once again, and the emergence of a partial understanding of my place in the world..."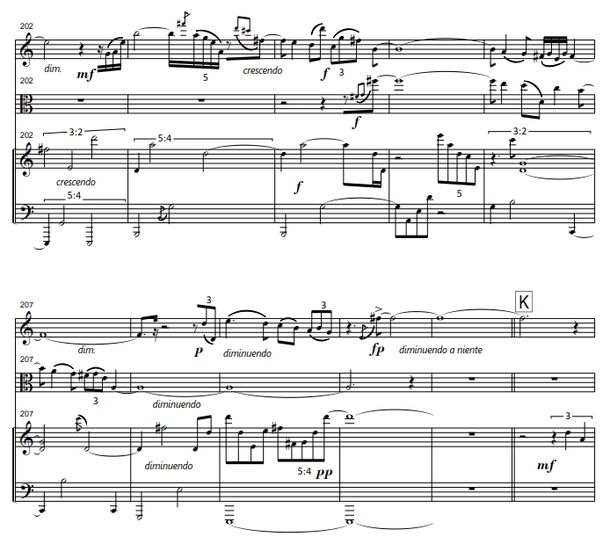 The premiere of emergence will take place on Saturday 21st April 2018 at 6 PM, at Muzeum Sztuki Współczesnej (Museum of Contemporary Art, MOCAK), Krakow, Poland, performed by the LorIen Trio—30. Miedzynarodowy Festiwal Kompozytorów Krakowskich 14-22 kwietnia 2018.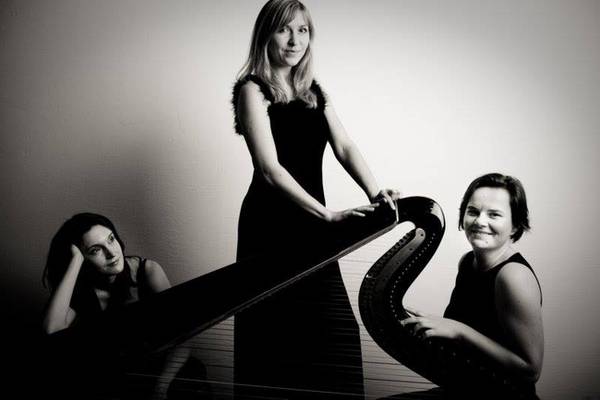 red moon
2006 | shakuhachi & harpsichord | 5 minutes

red moon was composed for a concert of the Melbourne Composers League, and was premiered on 10 December 2006 at Richmond Town Hall, Melbourne by Anne Norman (shakuhachi) and Peter Hagen (harpsichord).


Innocence II
2006 | violin & piano | 10 minutes

Innocence II was composed for Elizabeth Sellars and Kenji Fujimura, who premiered the work on 10th September 2006 at St Michael's Church, Melbourne.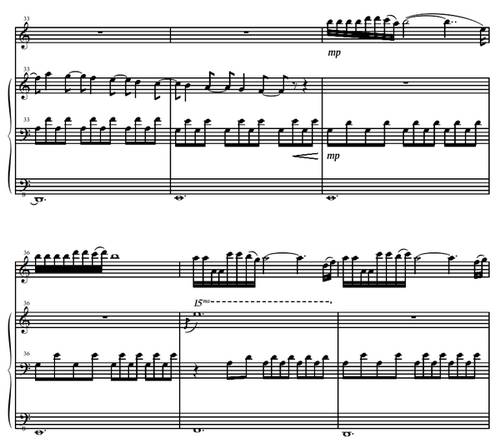 Miniatura II
2006 | flute & 2 violins | 2 minutes
Miniatura II was composed for the New York Miniaturist Ensemble and premiered on 27th March 2006 at the Cornelia Street Cafe, New York, USA.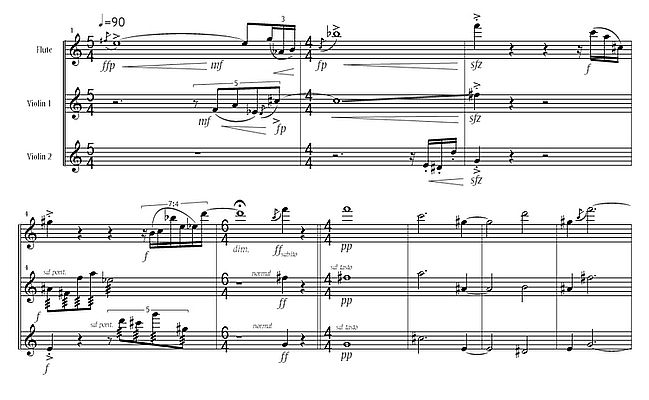 Miniatura I
2005 | violin & viola | 2 minutes
Miniatura I was composed for the New York Miniaturist Ensemble and premiered on 27th October 2005 at the Juilliard School in Lincoln Center, New York, USA.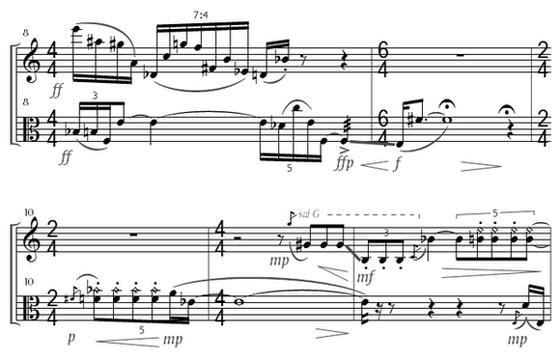 At the Grave of Dmitri Shostakovich
2004 | violin & cello | 5 minutes

At the Grave of Dmitri Shostakovich, a duo for violin and cello, was composed in August 2004, and was premiered by Isin Cakmakcioglu, violin, and Rachel Atkinson, cello, during a Melbourne Composers¡¯ League concert at the Iwaki Auditorium, ABC Southbank Centre, Melbourne in November 2004.
In 2001 I spent a few days in Moscow, where I visited the Novodevichy Cemetery, the burial place of Dmitri Shostakovich, along with many of the other luminaries of Russian culture. This work is a homage to Shostakovich, and a musical interpretation of the very moving experience of visiting his grave.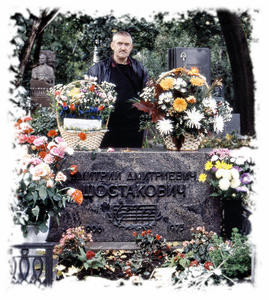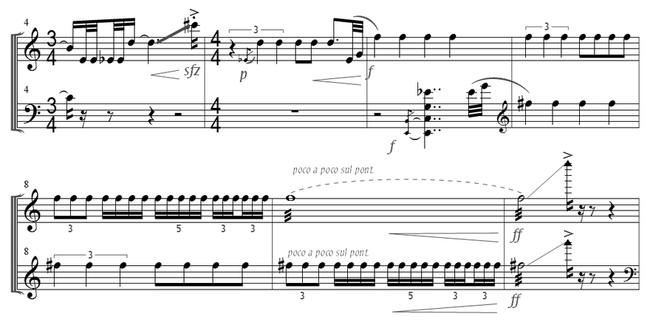 Wind Quintet
2004 | 13 minutes

This work of approximately 13 minutes duration was written for the Canberra Wind Soloists, who gave the premiere at the IDRS convention in June 2004, at Monash University, Melbourne.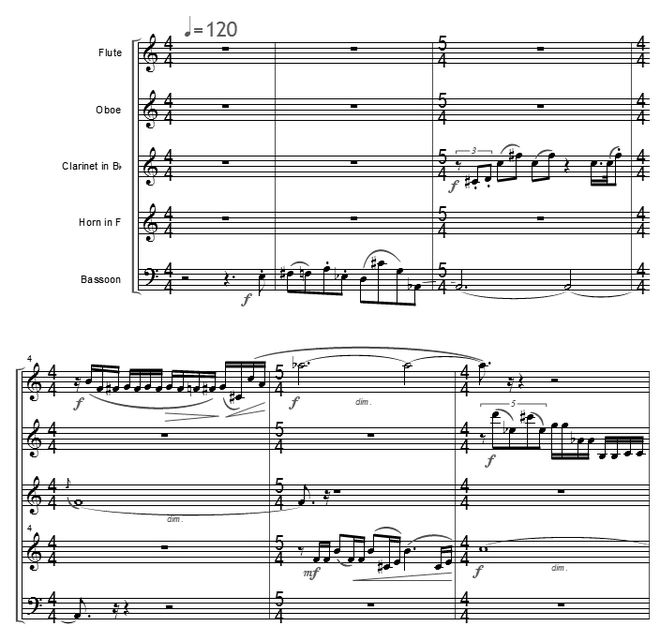 Conversations
2003 | 3 clarinettists & electronics | 40 minutes
Conversations is a collaborative work involving 6 composers: Steve Adam, Philip Czaplowski, Robin Fox, Russell Goodwin, Peter Myers, and Thomas Reiner. The piece is the outcome of a research project funded by a Research Innovation Grant from the Faculty of Arts, Monash University, and its composition took place over a period of approximately 9 months prior to the first performance on 12th June 2003 in the Drama Theatre, Performing Arts Centre, Monash University.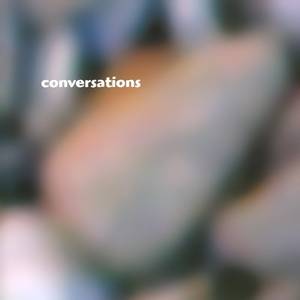 Trio
"This section of Conversations was a trio of about 5 minutes that I composed for Eb, Bb and bass clarinet, which emerged inpercebtibly from the previous material."

Totenlied
"The next section of Conversations was a solo of about 5 minutes that I composed for Bb clarinet, accompanied by the very creative electronic/digital manipulation of composer Steve Adam. The clarinet score later became my piece called Totenlied."

The complete recording of Conversations is available on CD from Move Records.

On the Move...
1999 | trumpet, horn in F, & tenor trombone | 3 minutes
This short brass trio is a musical portrait of Sir John Monash (1865-1931), one of Australia's most significant military leaders.
Born in Melbourne, Monash studied at Scotch College and Melbourne University, becoming a civil engineer. In this capacity he pioneered the use of reinforced concrete, building bridges and railways. During the First World War, he commanded the 4th Australian Brigade at Gallipoli (1914-5), the 3rd Australian Division in France (1916), and the Australian Corps as lieutenant-general (1918). One of the most highly regarded generals of World War 1, Monash was particularly respected for his thoroughness and planning skills. After the war, Monash organised the repatriation of Australian troops, and went on to make major contributions to Australian civilian life, serving on many boards and committees. Victoria's second university was named after him in 1958.
The title of the piece therefore refers not only to Monash's military achievements, but also his significant role in the development of Australia.
On the Move... is published by Red House Editions in an anthology of brass music entitled Portraits.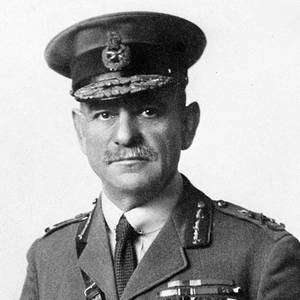 Innocence
1998 | violin & piano | 9 minutes

Innocence for violin and piano was written in 1998 for Australian violinist Deborah Fox, who gave the first performance at the Preshil School, Melbourne on 29th November 1998, with the composer at the piano.

Personae
1996 | oboe, clarinet & bassoon | 9 minutes

Personae is a trio for oboe, clarinet, bassoon, and was written for the Australian Chamber Soloists 1996 season and completed in July 1996. Personae was first performed by Jeffrey Crellin (ob), Phillip Miechell (cl) and Amanda Lee (bsn) in Melba Hall, Melbourne Conservatorium of Music, on Sunday July 7th 1996.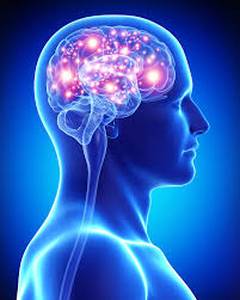 Trio
1994 | oboe, flute & cello | 9 minutes
This piece was written during April and May of 1994 for Prudence Davis (fl), Jeffrey Crellin (ob) and Phillip Green (vc), and was first performed at Music in the Round concerts, in Melbourne on 21st & 22nd May 1994. The work explores some of the timbral & textural possibilities of the ensemble, juxtaposing lyrical passages with sections of aleotoric writing, somewhat in the style of Lutoslawski.